Your small or large group of companions will also be safe on the premises, as up to all 5 of our chambers are accessible in accordance with the draconian distancing regulations.
Sir Lancelot
Medieval Restaurant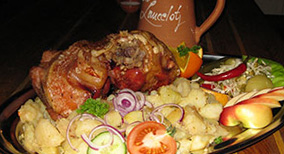 Sir Lancelot feast
Appetizer drops
Savory salty scones
Ragout soup with tarragon in a bread loaf
Monk's dish
Onion torture
Sweet poppy seed clods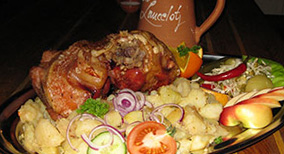 Vegetarian plate
Grilled cheese
Grilled vegetable skewers with a vegetable garnish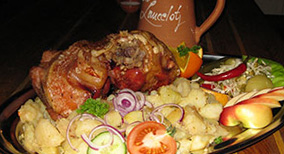 Blue Knight feast
Appetizer drops
Savory salty scones
Onion soup in a bread loaf
Baker's wife's calf
Sir Vincent's charm
Onion torture
Sweet poppy seed clods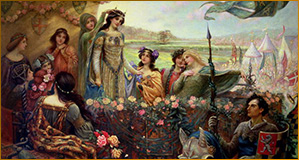 LADIES AND LORDS
IF THY STOMACH MIGHT CRUMBLE
And your cook be out, the solution is simple; Thy task then is only to travel, And the magic of Sir Lancelot's empire unravel. Ornaments on the walls, On tables candles glow, The mood of times bygone Are remembered so. And in order to keep your mouth full, we'll serve you a roast dove, not just a mouthful. When the bell tolls midday, the cook sets your feast on the furnace.

BOOK A TABLE
You may reserve your table at 302-44-56. Come and be entertained, forgetting jousts, ladies, little misses and misters, trusting my servants when you lay back in my court, lifting your cup for a cheer in your hand.
Come and see us any other time for a cup of wine, too. If you take a fancy, visit Sir Lancelot's knightly restaurant under number 14 of the street named after Podmaniczky, in the city of Budapest.

MEDIEVAL BIRTHDAY!
Drága Hölgyem, Jó Uram
Whenever You have Your birthday, come to us and celebrate! Bring Your friends with You (You and minimum 3 person), eat a main course and we will surprise You with an 5000 HUF Voucher, wich may be used after the birthday feast in our restaurant! 
The offer is valid throughout the year, with the birthday certificate. (The special offer is valid on the illustrious day or 5 days before or after Your birthday).